World of Tanks Bonus Codes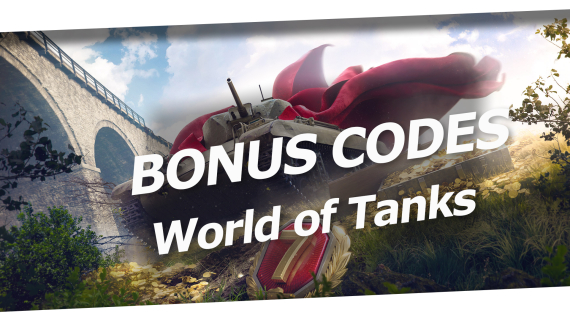 Be the leader of the battle and defeat opponents. Our New World of Tanks bonus code package will help you with this. Haven't registered your own WOT account yet? Then use the invite code! Create a new account and start playing with the wot bonus code now!
👉BONUS codes August 2020 for EU, NA and Asia
List of World of Tanks bonus codes 2020. Here you will find bonus codes for NA server.
Independence Day : https://na.wargaming.net/shop/redeem/?bonus_mode=INDEPENDENCETANK07201
or
Hitomi's mission: https://na.wargaming.net/shop/redeem/?bonus_mode=BDAYHITOMI2020
Connected for anyone in need of it. This is the codeNA INDEPENDENCETANK07201, which, like last month, will lead to 50 points and should be released weekly on Fridays on WoTs Next. This doesn't work for me as I only grabbed the 200 point code once SA, so I can't confirm, but last month the WoTs weekly codes gave some rental rates as well. Don't know what about SA last month,because i used NA codes. But I haven't received the rent with this month's code.
Latham code BDAYHITOMI2020 for 200-point mission. Again, this is only one time, and if you use it, weekly codes won't work. In any case, as long as you redeem all Wots Next codes, the points payout will be the same at 200.
10 Days of Premium Account for 10 Years of WoT!  Available: from August 12 at 07:00 CEST through August 22 at 07:00 CEST (UTC+2). Reward – 1 day of WoT Premium Account. Just Log in to World of Tanks.
EVENT
CODE / LINK
SERVER
REWARD
EU
Gives 1 Day Premium Time
University of Tanks
UNIAUGLT20
UNIAUGMT20
UNIAUGHT20
UNIAUGTD20
NA
Consult Missions at Garage
MACHINES20WILLWIN
EU
Gives 5X Personal Reserves: Additional Credits per Battle (x5)
TF2020YOUDIDGREAT
EU
3 days of World of Tanks premium account + 1 place in the garage + 1 Ranger style (Maybe time or use limited !)
TOGIITF2020HE
EU
TOG rental
Tank University for Aug
Link
NA
Combat XP, Tank Token
August Tournament Missions
Link
NA
5× Personal Reserves: +100%XP (1 hour)
Manticore On-Track
Link
NA
×2Crew XP, 6,500XP
1× Personal Reserves: +50%XP (1 hour)
Stream Chain /

Weekly Watcher Codes /
Weekly Make Up Code:

ASIOEURWWC0720
NA
For this week's ShowdownSaturday, ChaunceyBillups decided to go old school and choose his favorite low tier tank, the Tier III Somua S35. If you beat the score we post on Saturday this week, you'll walk away with Bonds, Premium Time, and Boosters. Good luck!
WoT's Next:
WATCHWOTSNEXT06201
NA
https://worldoftanks.com
REASERSHWRCK
NA
Gives 20 miles in Highway Rock
HOLAGITOMI0620
HOLAHITOMI
LATAM
only works for accounts registered in Latin America, from Mexico to Argentina
KRWOTINSTAGRAM
ASIA
Gives missions which rewards victory exp x3, 1 day premium account, 20,000 exp
FUNNIGHTWOT06
ASIA
Gives Mission called Late Night Fun
WOTBRODYGERMANY
ASIA
2020DRAGONBOAT06
ASIA
Open Mission called "Dragon Boat Festival"
FUNNIGHTWOT07
ASIA
Gives:
Special missions available for 2 hours daily in July! Complete missions for x2 EXP! Styles, decals and emblems to be won!
If they don't work for you, there's a reason and it's on your end. The Weekly Watcher Codes DO NOT WORK for me because I entered the Streamer Codes before they expired. So they won't work for you if you did the same. They're for the folks that missed out for LAST WEEK and THIS WEEK. So EVERYONE should have what they need TODAY.
🎁ANNIVERSARY CODE for EU & NA
Code 1357 gives you 5 automatic fire extinguishers and one personal reserve. The Wz-111-5 was the initial Chinese heavy. Then they removed it and put the 113 in its place. Subsequently re-added it some time later as the 5A.
🔥NA & EU RENT A TANK FOR 5 BATTLES BONUS CODE
You can CHOOSE for yourself by entering ONE (1) Code that's good for a FIVE (5) BATTLE rental of ONE (1) of these tanks:
IAMM41902020 – LEKPZ M 41 90 MM
IAMTS52020 – TS-5
IAMSTRVS12020 – STRV. S1
IAMLOWE2020 – LÖWE
IAMM4492020 – AMX M4 MLE. 49
IAMT92LT2020 – T92 LT
IAMLT4322020 – LT-432
IAMMAUERBRECHER2020 – MAUERBRECHER
IAMSOMUA2020 – SOMUA SM
IAMKJP1052020 – KANONENJAGDPANZER 105
IAMELCEVEN2020 – ELC EVEN 90
IAMSKORPION2020 – RHM SKORPION G
IAMPROGETTO2020 – PROGETTO M35 MOD 46
IAM50TP2020 – 50TP PR
IAMTURTLE2020 – TURTLE MK. I
IAMT26E52020 – T26E5
Apparently, Frontlines battles COUNT towards the FIVE (5) battle rental.
How can you get wot bonus code 2020?
Let's save a bookmark in your browser! There will be new codes on our web-pages!
How to Activate your bonus code?
There are only 3 steps to activate our bonus code and start enjoying the best game of the world — World of Tanks!
Step 1. Visit your account, using only official World of Tanks website, and then you must click on your username in the upper-right of the screen.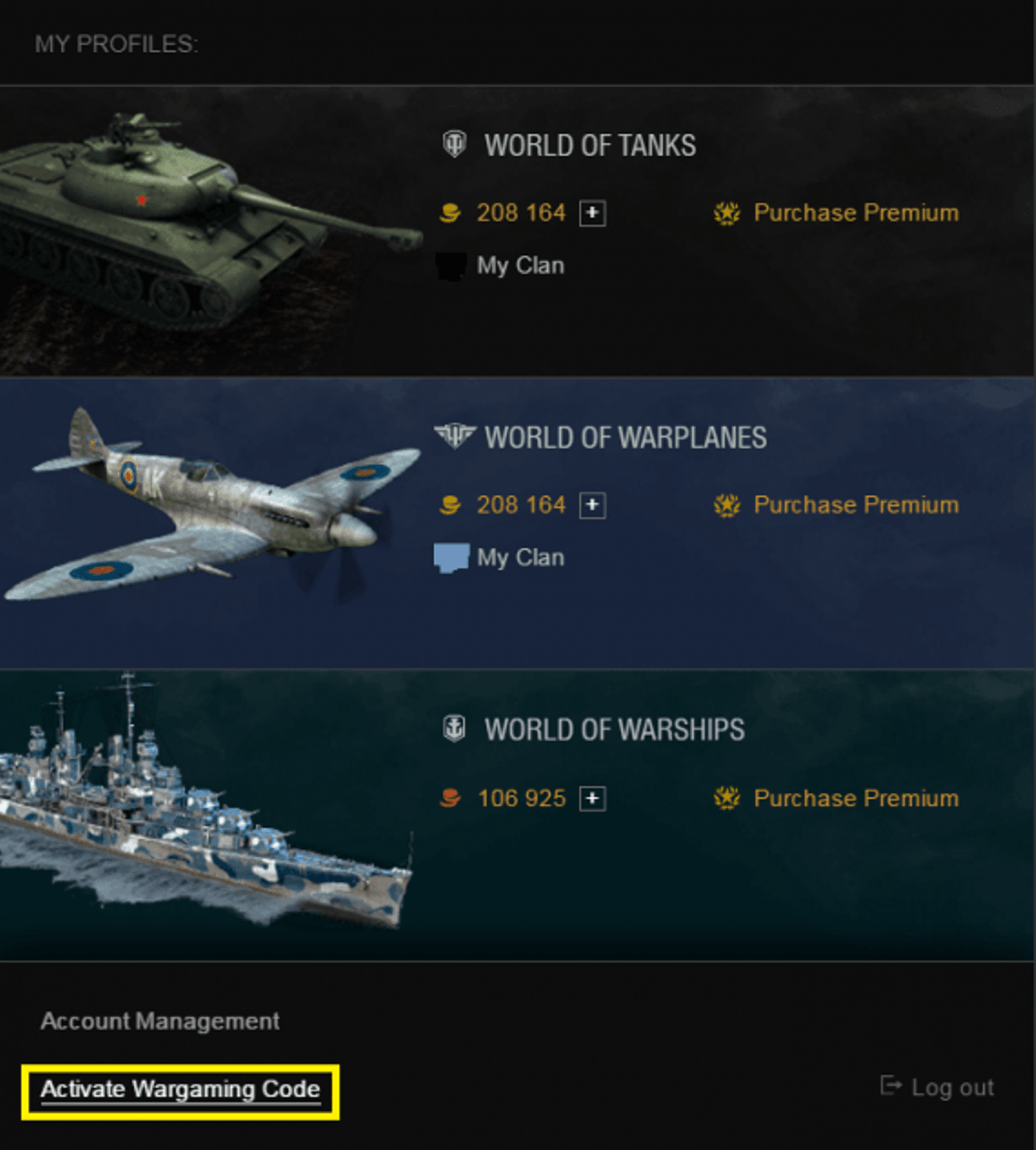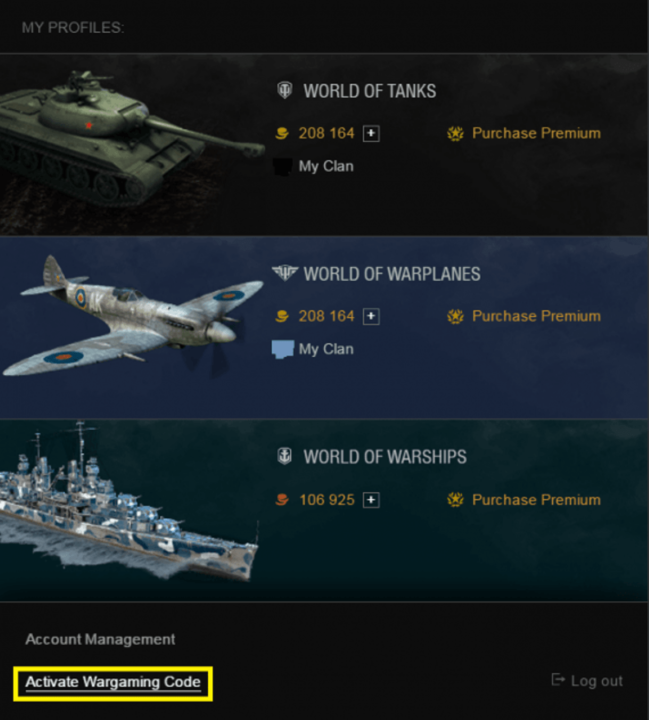 Step 2. Find the bottom "Activate Wargaming Code"  and click it, using username dropdown menu.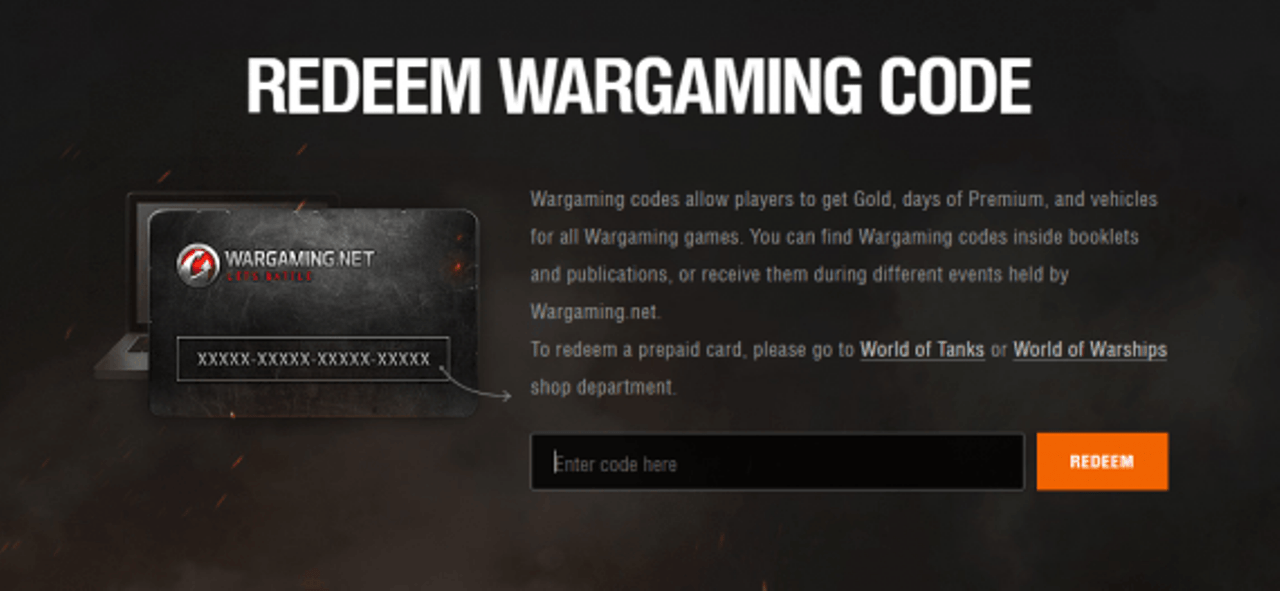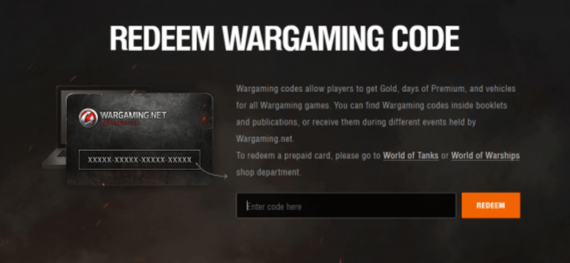 Step 3: When code appears on the card, please, enter it. Next step – clicking on the "Redeem" button. Next time, when you log into your WOT account, you will get your reward.
🔥More codes in FB
---