World of Tanks Bonus Codes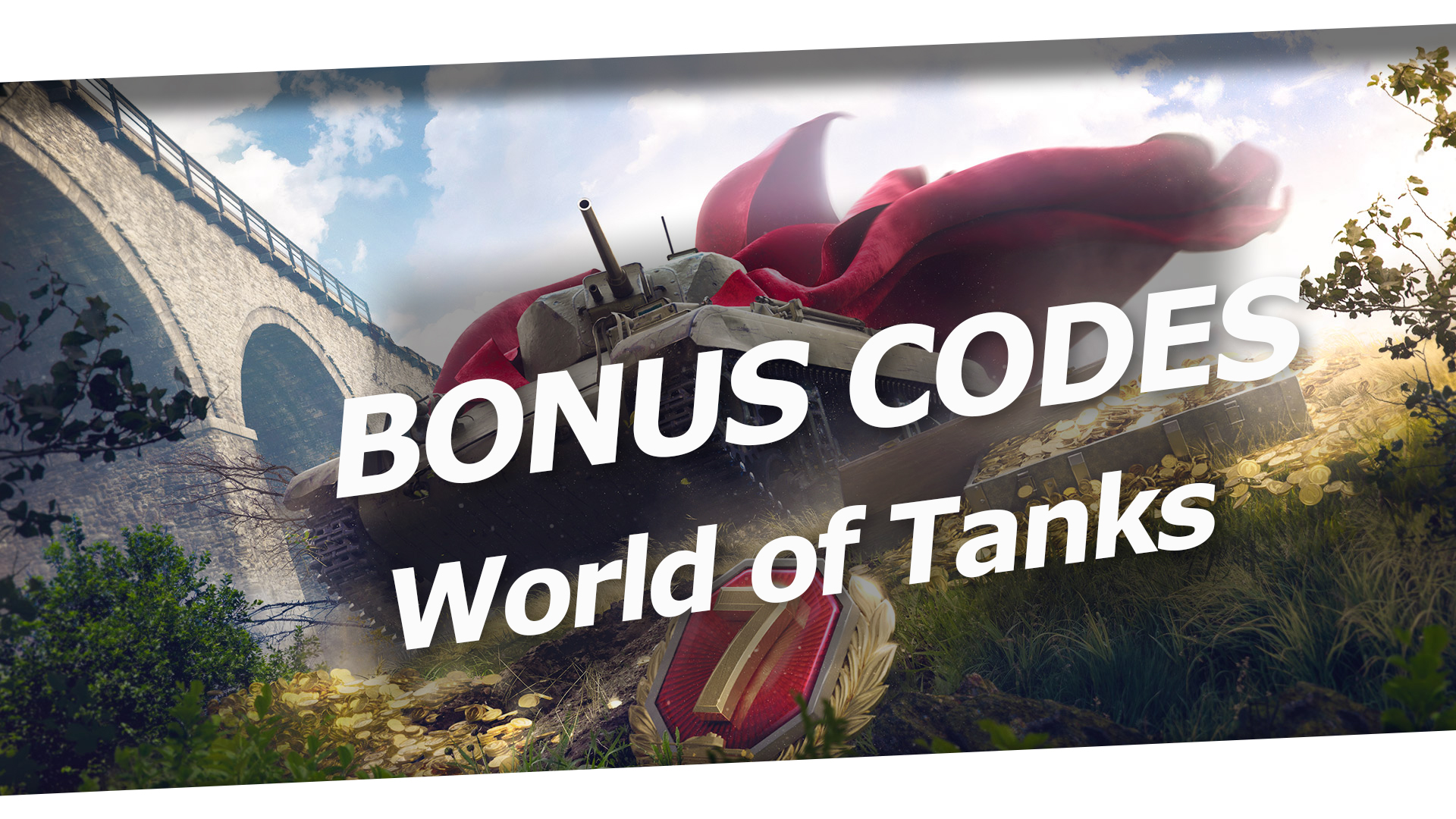 Be the leader of the battle and defeat opponents. Our New World of Tanks bonus code package will help you with this. Haven't registered your own WOT account yet? Then use the invite code and get premium tanks and gold! Create a new account and start playing with the WoT codes now!
👉BONUS codes November 2020 for EU, NA and Asia
List of World of Tanks bonus codes 2020. Here you will find bonus codes for NA server.
Connected for anyone in need of it. This is the codeNA INDEPENDENCETANK07201, which, like last month, will lead to 50 points and should be released weekly on Fridays on WoTs Next. This doesn't work for me as I only grabbed the 200 point code once SA, so I can't confirm, but last month the WoTs weekly codes gave some rental rates as well. Don't know what about SA last month,because i used NA codes. But I haven't received the rent with this month's code.
EVENT
CODE / LINK
SERVER
REWARD
EPOCADEMILAGROS2020
NA
Gives 500 gold, day of premium and access to 4 week-end rental missions in December.
SHOPTILDROP11204
NA
Rental vehicle M46 Patton KR for 3 days
Access to a Mission5х Personal Reserves: +100% Experience for 1h
TURKEYDAYPREP11203
NA
Rental vehicle M4A3E8 Fury for 3 days
Access to a Mission
5x Personal Reserves: +300% free XP for 1h
TANKSGIVING2020
NA
200 "Tanks Rewards" Tokens
PRIMEGAMING2020
NA
500 gold and 15 Personal Reserves 200%
OS7KFRQWWC1120
NA
Access to a Mission
Manual Fire Extinguisher
Small First Aid Kit
Small Repair Kit
HEARTSALUTE11202
NA
Rental vehicle T26E3 Eagle 7 for 3 days
Access to a Mission
5x Personal Reserves: 200% Crew Experience for 1h
2020ARMISTICE
EU
Access to a Mission (earn extra 200 points for Tank Rewards)
THANKYOUVETS11201
NA
Rental vehicle T26E5 Patriot for 3 days
Access to a Mission
5х Personal Reserves: +100% Experience for 1h
LATEFUNWOT11
ASIA
Access to a Mission
ASIA20201111WOT
ASIA
Access to a Mission
AMX 50 B On-Track
Link
NA
×2Crew XP
Tank University for November
Link
NA
1,000 Combat XP
1×Light Tank Token
November Tournament Missions
Link
NA
5× Personal Reserves: +100%XP (1 hour)
2020GOHOME
EU
Camo & 7 premium days
University of Tanks
NA
ITOUPGCWWC1020
NA
TRICKORTREAT102045
NA
Rental M6A1E2 for 3 days, 5 x 200% Crew Experience
MONSTERMASH10204
NA
MG2KAMDYD3B7KTLQXKFDC7UBA
EU
9 emblems
CREC-DFVUU-HGK9M
CREC-DFW68-AZV9K
CREC-DFWGC-MRPYN
EU
SERUICHWWC1020
NA
BTMRASEINIAI
ASIA
LATEFUNWOT10
ASIA
JACKOLANTERN10203
NA
Rental vehicle T78 for 3 days
Access to a Mission
5x Personal Reserves: +300% free XP 1 hour
RIEUYWNWWC1020
NA
Access to a Mission
Small First Aid Kit
Small Repair Kit
WITCHINGHOUR10202
NA
HALLPASS092004
NA
Access to a Mission
Takeaf1ve
NA
STRAIGHTATANKER092002
NA
Access to a mission
REMSRDIWWC0920
NA
3 small consumables
If they don't work for you, there's a reason and it's on your end. The Weekly Watcher Codes DO NOT WORK for me because I entered the Streamer Codes before they expired. So they won't work for you if you did the same. They're for the folks that missed out for LAST WEEK and THIS WEEK. So EVERYONE should have what they need TODAY.
🎁ANNIVERSARY CODE for EU & NA
Code 1357 gives you 5 automatic fire extinguishers and one personal reserve. The Wz-111-5 was the initial Chinese heavy. Then they removed it and put the 113 in its place. Subsequently re-added it some time later as the 5A.
🔥NA & EU RENT A TANK FOR 5 BATTLES BONUS CODE
You can CHOOSE for yourself by entering ONE (1) Code that's good for a FIVE (5) BATTLE rental of ONE (1) of these tanks:
IAMM41902020 – LEKPZ M 41 90 MM
IAMTS52020 – TS-5
IAMSTRVS12020 – STRV. S1
IAMLOWE2020 – LÖWE
IAMM4492020 – AMX M4 MLE. 49
IAMT92LT2020 – T92 LT
IAMLT4322020 – LT-432
IAMMAUERBRECHER2020 – MAUERBRECHER
IAMSOMUA2020 – SOMUA SM
IAMKJP1052020 – KANONENJAGDPANZER 105
IAMELCEVEN2020 – ELC EVEN 90
IAMSKORPION2020 – RHM SKORPION G
IAMPROGETTO2020 – PROGETTO M35 MOD 46
IAM50TP2020 – 50TP PR
IAMTURTLE2020 – TURTLE MK. I
IAMT26E52020 – T26E5
Apparently, Frontlines battles COUNT towards the FIVE (5) battle rental.
How can you get wot bonus code 2020?
Let's save a bookmark in your browser! There will be new codes on our web-pages!
How to Activate your bonus code?
There are only 3 steps to activate our bonus code and start enjoying the best game of the world — World of Tanks!
Step 1. Visit your account, using only official World of Tanks website, and then you must click on your username in the upper-right of the screen.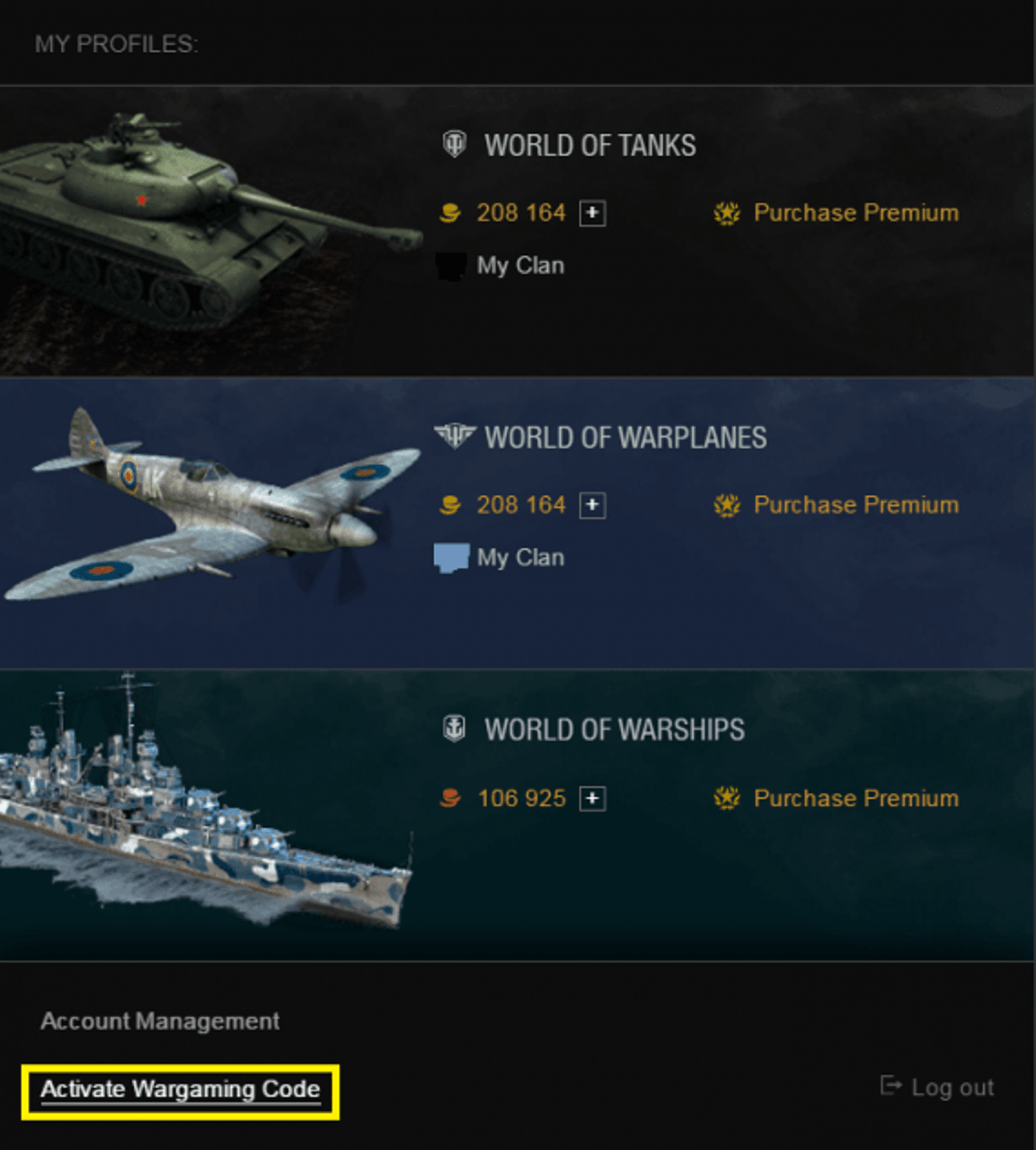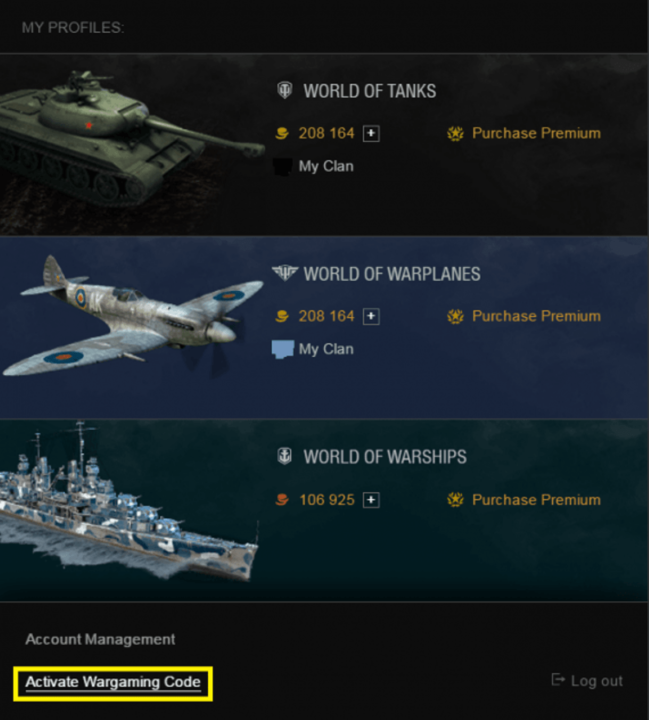 Step 2. Find the bottom "Activate Wargaming Code"  and click it, using username dropdown menu.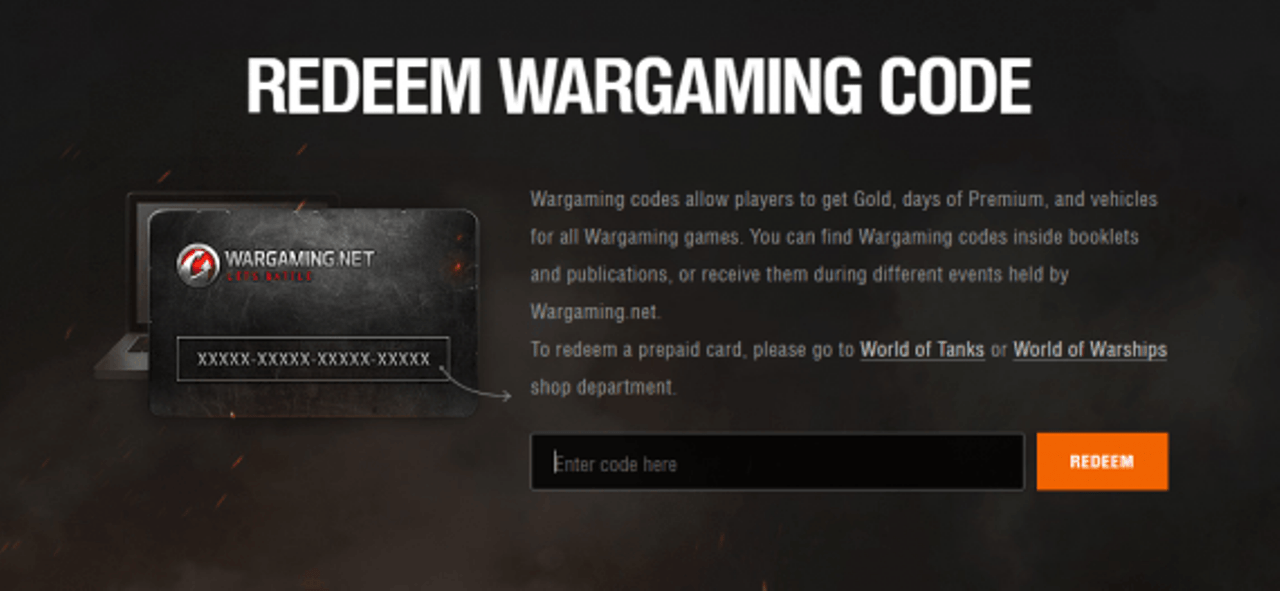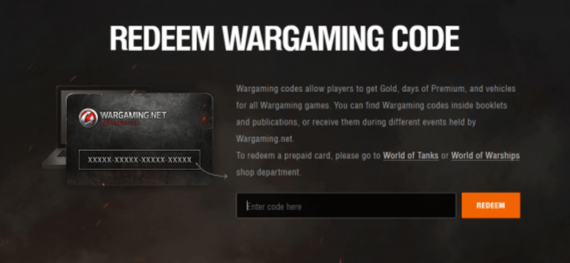 Step 3: When code appears on the card, please, enter it. Next step – clicking on the "Redeem" button. Next time, when you log into your WOT account, you will get your reward.
🔥More WoT codes in FB
---